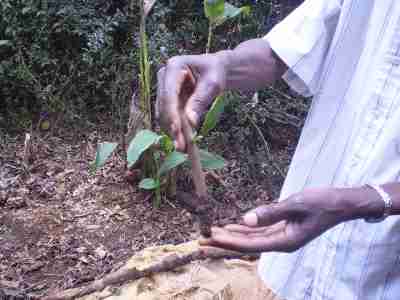 Mr Ezekiel Njau lives with his family on 8 acres of organic farmland in the village Kilama Pofo, in the lower region of the Moshi rural district. The family subsist on their own crops, but to generate extra income Mr Njau also owns a tree nursery, as well as tending bees and dairy goats, all of which were provided or given assistance by KEDA.
In return, Mr Njau assists KEDA by researching into plant propagation techniques, and experimenting on the abilities of different species of plant to grow in the region.
Mr Njau grows a large variety of plants in his tree nursery such as oriental, fruit and timber trees, as well as flowers and local medicinal plants. He sells the trees to villagers for around Tsh 800-1000, depending on the species and the work that is needed for each the growth of particular species. Mr Njau would be able to sell the trees in large towns and cities for up to Tsh 5,000. However, he can not afford the transport costs.
Experimental Methods
Mr Njau grows the trees and shrubs from seeds as well as cuttings and enjoys experimenting with new methods. He has great knowledge on the local plants and this project would not be possible without his time and enthusiasm. Some plants, such as the Ashok tree (which is an oriental tree) take between 3-4 months before germination begins. Other plants have a very complicated germination method, such as the Ficus benjanun, where the grower must first strip bark from an established small tree, then cover it in with wet soil / sawdust / algae and cover it with paper or polythene securely. Then this needs to be watered when dry, and after 7-8 days the branch will start shooting roots. The branch is cut above where the roots have sprouted and these are then planted in a separate polythene bag.
The 'School-Fees Tree'
Agrocarpus is an exotic tree transplant from India which grows rapidly and will eventually (after around 15 years) reach approximately 40 foot. Mr Njau advises villagers to invest in one of these trees when they plan to have children, since they can be sold for timber when they are between 10-20 years old, when their heights may have reached up to 40 feet.
 Additional Activities - Buck-Keeping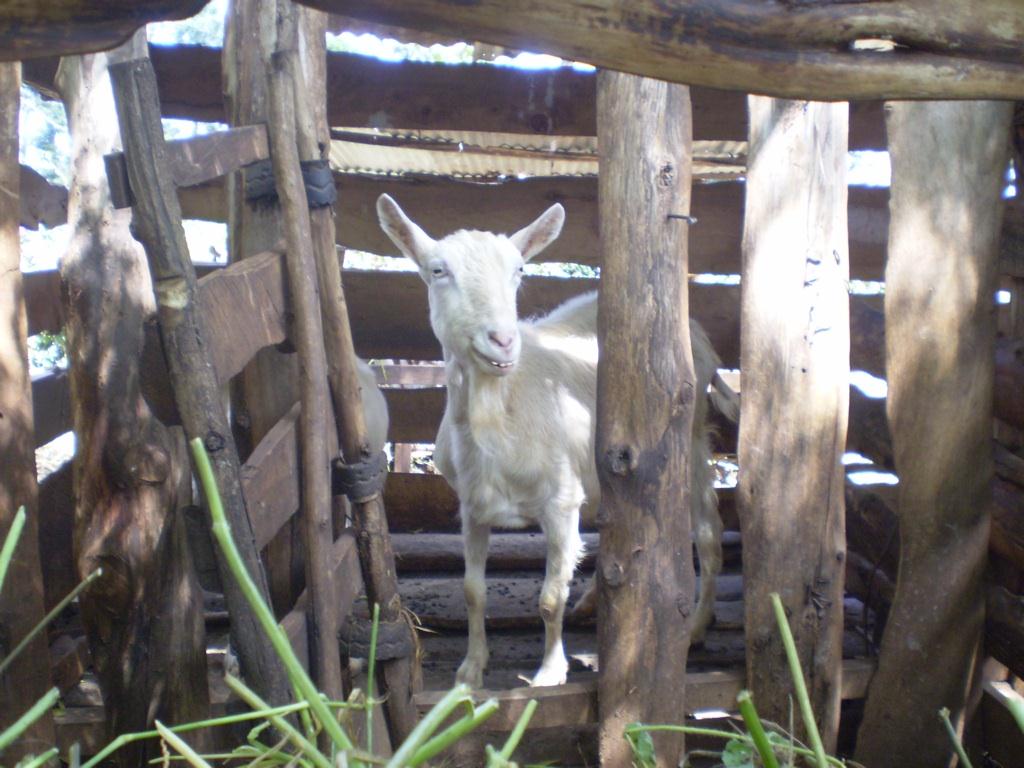 Mr Njau purchaseda female goat from KEDA, and is also the goat buck-keeper for the village.  Villagers can hire the buck for mating purposes for Tsh 1,000 per session. However, the poorest families within the community who may not be able to afford the fee are offered the buck for free. Mr Njau's female goat produces 4 litres daily. Since he first bought his goat from KEDA in 2002, it has given birth to 6 kids. He has donated 3 of these kids to KEDA, who have then redistributed them to poor or disadvantaged members of the community.  He has also sold another 3 kids to villagers for 70,000 Tsh.
With KEDA's help, Mr Njau has been able to send his children to school and further education and the extra income brought by KEDA's assistance has allowed him to develop his own personal projects, such as dairy cows and pigs. Mr Njau has in turn donated much time and research to KEDA, as well as redistributing goats, embodying many of KEDA's ideals - helping indivual families in the community, who then in turn may use their newfound knowledge or produce to give back to the community.